Registration for Logan's Run 2016
September 15th through September 18th, 2016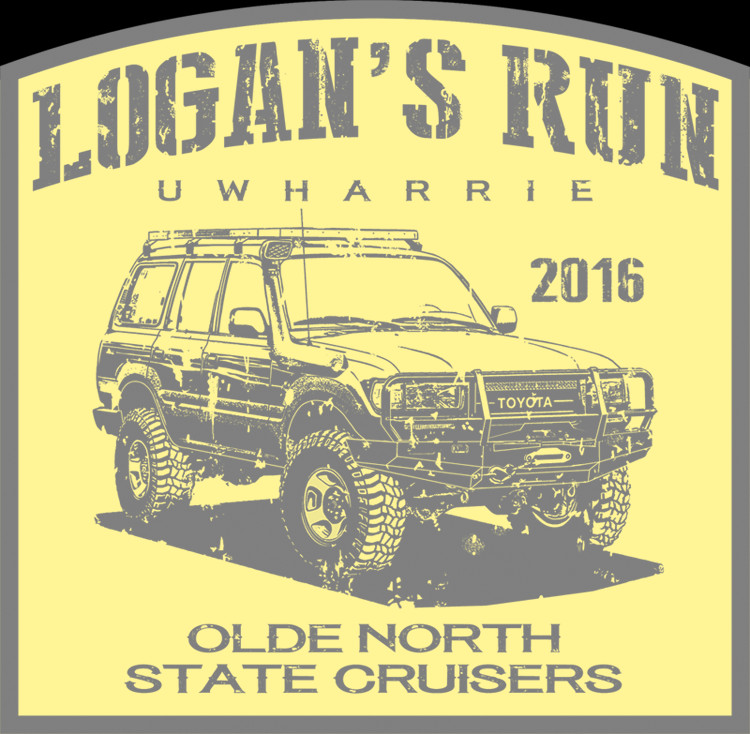 REGISTRATION IS OPEN!!
Scroll to the bottom to pick your options and check out
Registrations after September 5th will not be guaranteed food.
Logan's Run 2016 is the sixth annual off-roading and camping event, hosted by Olde North State Cruisers (ONSC), the Toyota Land Cruiser Association's (TLCA) only chapter in North Carolina.
This family friendly event is held at the Uwharrie National Forest, which located off of Highway 109 between Denton and Troy, NC.  ONSC has once again reserved Group Camp within the Uwharrie National Forest to host the event.  This campground provides clean bathrooms and showers, along with primitive camping sites for both tents and vehicles.  Ample parking space is available for RVs as well as tow rigs and their trailers.
In addition to the campsite, Badin Lake is within walking distance, which offers swimming and a boat launch.  There are also many hiking trails throughout the Uwharrie trail system.  This is a link to the Uwharrie Trail Map, including OHV, horse and hiking trails: http://onsc4x4.com/uwharrie/
The event schedule is as follows:
Thursday, September 15, 2016
Guests can begin arriving at 10:00am
Vehicle Inspection will occur as vehicles arrive
ONSC Vehicle Inspection Requirements can be found at the following URL: ONSC Vehicle Inspection Requirements
Vehicle Inspection Requirements will be enforced and non-compliant vehicles will be denied participation in organized wheeling events
See Johnny Casale (@GLTHFJ60) for further Vehicle Inspection Requirement questions
Friday, September 16, 2016
A vehicle inspection is required prior to the trail run
9:00am – Wheeling groups Easy1, Medium1 and Difficult1 depart (see below for how groups are divided up)
Dinner is up to the individual
Saturday, September 17, 2016
9:00am – Wheeling groups Easy1, Medium1 and Difficult1 depart

9:30am – Wheeling groups Easy2, Medium2 and Difficult2 depart

Dinner, provided by ONSC (please see registration for details), will be at 7:30pm at Group Camp site A, which is the site to the right when driving into Group Camp
The Raffle will begin at 9:00pm and last until roughly 10:30pm
From 10:30pm until ??, we will gather around the campfire and tell tall tales until whenever
Sunday, September 18, 2016
Those who wish to wheel will gather at 8:00am in the field in the middle of Group Camp
Trucks will be divided up into groups based on difficulty of the trails participants want to run (easy, medium, difficult)
Each group will have a designated trail leader and tail gunner
Groups will wheel from roughly 9:00am until whenever they wish
Clean-up and the end of our event is Sunday afternoon
Once again 30% of our event profits will be donated to the Blue Ribbion Coalition (BRC) and another 30% of our profits will be donated to Tread Lightly.
Our ability to use the beautiful Uwharrie National Forest hinges not only on our responsible land-use policies (think Tread Lightly) and volunteer hours, but also on the advocacy efforts of the BRC and Tread Lightly.  Our donations will go to those foundations, who will use them to help ensure that our trails continue to be available to use not only for us, but for our progeny.  Individual donations are always welcome!
Logan's Run Registration
Below are the registration and "extra" types and cost.  Feel free to add as many as you'd like to your cart, at which point you can check out and add the rest of your information needed to register.  Kids 17 years of age and younger are FREE.
NO LOGIN REQUIRED! Click "add to cart" on the items you would like and scroll down to view your cart.
| Registration Type and Cost | Description | Add to Cart |
| --- | --- | --- |
| Driver with Vehicle – $45 | This includes admission for driver and vehicle, with meal and t-shirt included | |
| Passenger (each) – $10 | This includes admission for a vehicle's passenger, with meal included. Registration for kids under 17 is free!!  Do not add a passenger to your cart for someone under 17. |   |
| "Extra" Type and Cost | Add to Cart |
| --- | --- |
| Extra T-Shirt (each) – $15 |   |
| Raffle Ticket (each) – $1 | |
| Raffle Ticket Bulk (25) – $20 |   |